Baldersquash!
This was the June 2012 pattern for Indigodragonfly's Smart-Ass Knitters World Domination Club and was accompanied by a lovely skein of orange merino/bamboo/silk blend that goes by the name "Bleats, Shoots & Leaves". The name of the colorway was, appropriately enough, "Baldersquash".
Seriously, I love this pattern -- the cables aren't cables, but increases and decreases, which means the socks will have more give than if you were cabling.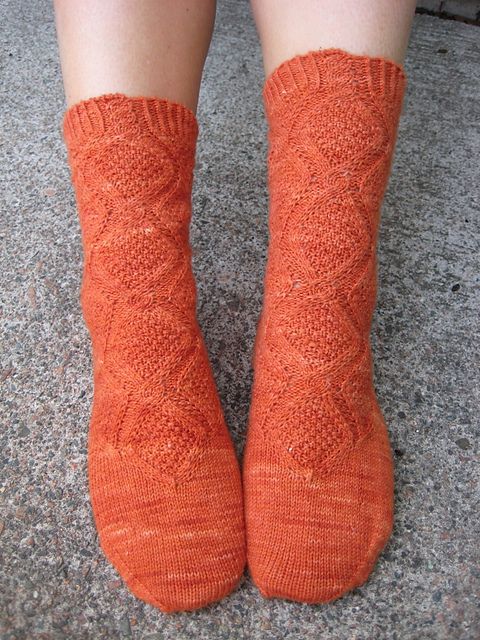 The picture is not mine, but Deb Barnhill's who designed the pattern. It certainly looks like it has cables, so it's going to be fun putting these together.
I'm not casting on today -- I have another pair of socks on the needles I'm determined to finish first -- but soon, hopefully.
This entry was originally posted at http://spikewriter.dreamwidth.org/857444.html. You may comment here or there using OpenID.


messages on the machine.
My index cards were ceremoniously shuffled and then the husband picked this month's entry for my Stash Sock Club. And the sock of the month is....